Wedding planning has me like: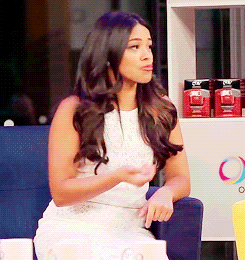 What? You thought I was going say that I'm losing my mind? That I just want to elope already? That love is overrated and marriage is a waste of time and money?
Nope!
In all honesty, I think the key to keeping your whits about you while planning a wedding is…. wait for it…. keep it small.
Our guest list at the very start was around 30 people (which is the number we gave to the caterer). Now that invites have been sent out and RSVPs are rolling in, it's looking like we'll have about 26 people attending. Do you know what that means? It means less stress than if we had invited everyone we knew and more enjoying time with people we actually give a damn about. It also means that we'll have enough food for our photographer, videographer, and musician. Yay!
Since our wedding will be so intimate, Fella and I have decided to not have a wedding party. There is no rule saying that we have to have people standing alongside us during the ceremony, so instead, all of our friends and family will be seated watching us say our vows- reveling in our beauty and mushy-gushy love for one another, while we keep what monies we would have spent on the wedding 'extras' in our pockets.
One of our main concerns going into planning a wedding was how much throwing this kind of shindig costs. I'd done some research before actually planning to see what averages are for weddings locally. I about caused Myocardial infarctions in both Fella and myself when I read that the average spent on a wedding in our area was about $29,000! Who has that kind of money to spend on a wedding!?
Since that point, I've been on a mission to keep costs low:
Our venue will double as the ceremony and reception space and was priced extremely reasonably.
I've made our Save the Dates and Invitations (courtesy of this Etsy printable).
I've been making my own decor such as a sign for our cake/cupcake table that reads: "I Love You More Than Cupcakes" that will be hung in our kitchen after the fact and our guestbook accoutrements (we're doing a Bucket List of adventures).
We will be providing our own drinks and dinnerware for the reception to avoid the 30% hike from the caterer.
I'm having my caterer make my cake and cupcakes, so I was able to score a 'package deal' and not worry about 2 separate shipping costs.
I bought my wedding dress off the rack during a inventory clearance event and scored $400 off.
I've opted for a faux flower bouquet (this one with lavender instead of pink flowers) and boutonniere instead of real ones (have you seen the prices for those things!?) and as a bonus I'll have a pretty keepsake.
I won a slight discount off my videographer by shamelessly plugging a Facebook contest whenever and wherever I could to secure votes (for those who are curious, I lost to first place by only 4 votes, but the business owner felt bad for me, so he gave me $350 off!).
I bought my wedding shoes secondhand from a girl who wore them once and sold them to me at a 75% discount compared to buying them new.
I've booked an old friend from grade school as my photographer who is just starting out and is working on building her portfolio (major discount and free engagement shoot included!).
I've used a free wedding website builder to offer guests wedding details and track RSVPs online.
As you can see, I've worked very hard on keeping the budget low while still getting what I want and then some. With everything pretty much already planned, our total is hoovering right around $12,000 (not including our honeymoon to Belize(!)). That is less than half of the average cost I mentioned earlier. Woo!
I have managed to plan an amazing evening to share with family and friends that will celebrate Fella and my's love for one another, and I am beyond excited. We are exactly 100 days away from saying "I Do" and I couldn't be any happier.
---
Are you planning a wedding? Need any tips or insights? I know how daunting it all can seem- sometimes you just need someone to tell you you're making the right decision. Do you have a wedding planning nightmare story to share? It could potentially ease the nerves of those of us in the thick of it…